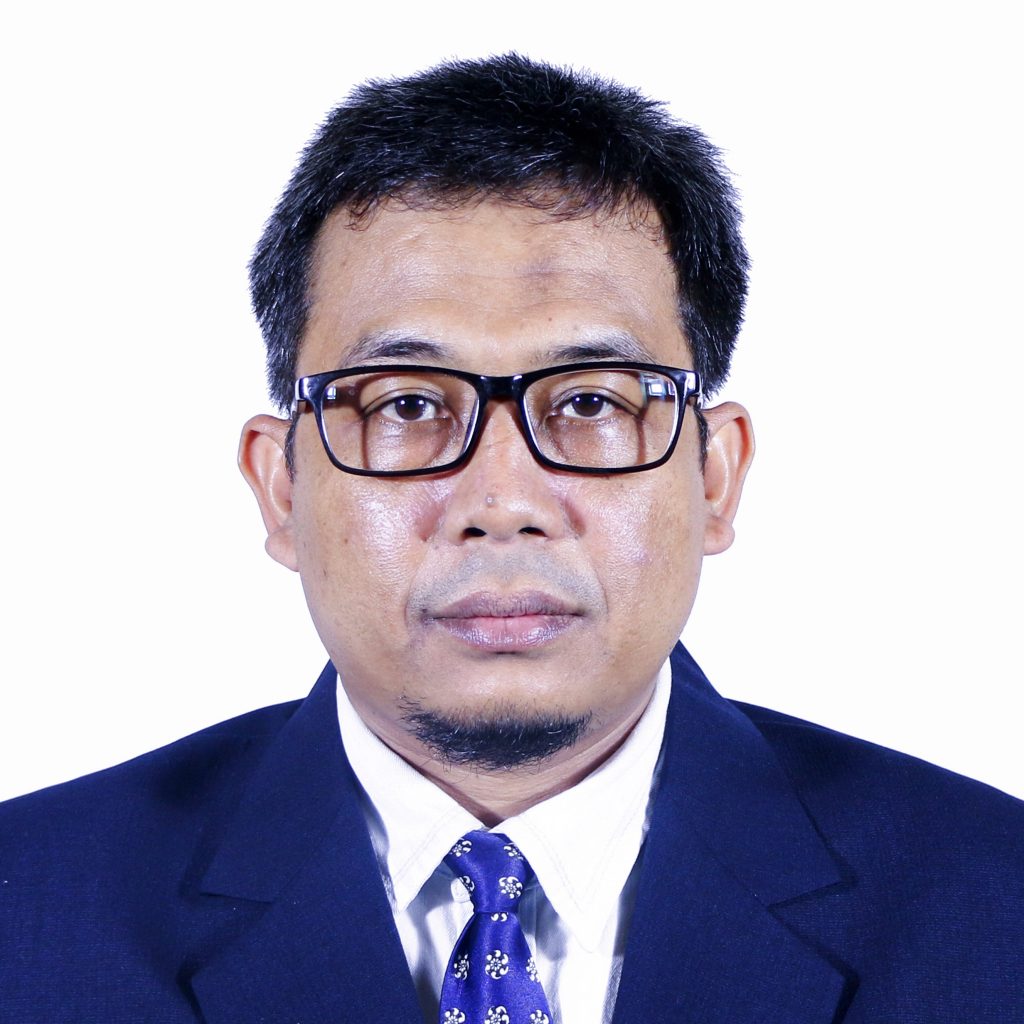 Email : respati@ugm.ac.id
Education Background :
Doctor, Ph.D, Osaka University, Japan, 2010.
Master, M.Phil, The University of Queensland, Australia, 2006.
Undergraduate, S.Si., Chemistry, FMIPA,Universitas Gadjah Mada, Indonesia, 1993
Research Interest :
Marine Natural Products, Natural Products Membrane-Active Biomolecules, fingerprint H-NMR.
Aktif meneliti tentang bahan alam terutama metabolit sekunder yang berasal dari spons laut, serta karakterisasi struktur dan uji aktivitas biologis dari senyawa tersebut. Aktif juga meneliti tentang pengembangan metode aplikasi fingerprint H-NMR berbasis metabolit sekunder dari bahan alam untuk saintifikasi dan autentifikasi obat tradisional.
Research Cluster/Group :
Bahan Alam
List of Publications :
N Yunitasari, RT Swasono, HD Pranowo, TJ Raharjo (2022) Phytochemical screening and metabolomic approach based on Fourier transform infrared (FTIR): Identification of α-amylase inhibitor metabolites in Vernonia amygdalina leaves, Journal of Saudi Chemical Society, 101540

BP Pratama, Y Pranoto, RT Swasono (2022) The Identification of β-Ocimene Biosynthetic Pathway Through Mevalonate Acid (MVA) and 1-Deoxy-D-Xylulose 5-Phosphate (DXP) Pathways Using Crude Enzyme Extracts in Indonesian, Tropical Life Sciences Research 33 (2), 1

The Properties of Salam Leaf Extract (Syzygium Polyanthum) with Different Solvent Ratio and Processing Time Using Ultrasonication-Assisted Extraction MethodBP Pratama, Y Pranoto, RT Swasono
Journal of Applied Science and Engineering 26 (4), 581-587

2022
A development method of FTIR spectroscopy coupled with chemometrics for detection of synthetic drug adulterants of herbal products in quaternary mixtureDC Fatmarahmi, RA Susidarti, RT Swasono, A Rohman
Journal of Applied Pharmaceutical Science 12 (3), 191-201

2022
Bibliometric Analysis of Literature in Snake Venom-Related Research Worldwide (1933–2022). Animals 2022, 12, 2058F Sofyantoro, DS Yudha, K Lischer, TR Nuringtyas, WA Putri, WA Kusuma, …
s Note: MDPI stays neutral with regard to jurisdictional claims in published …

2022
Bibliometric Analysis of Literature in Snake Venom-Related Research Worldwide (1933–2022)F Sofyantoro, DS Yudha, K Lischer, TR Nuringtyas, WA Putri, WA Kusuma, …
Animals 12 (16), 2058

2022
Screening and Toxicity Assay of Bioactive Compounds from Ethyl Acetate Extract of Indonesian Marine Sponge Dysidia sp. from Hoga IslandMF Ramadhan, E Astuti, RT Swasono
Materials Science Forum 1061, 165-171

2022
Application of Ftir-Atr Spectroscopy in Combination With Multivariate Analysis to Analyse Synthetic Drugs Adulterant in Ternary Mixtures of Herbal Medicine ProductsDC Fatmarahmi, RA Susidarti, RT Swasono, A Rohman
Indonesian Journal of Pharmacy

2022
Different leaf maturities and withering durations affect the antioxidant potential and aroma compound of Indonesian bay leaf [Syzygium polyanthum (Wight) Walp.].BP Pratama, RT Swasono, Y Pranoto
International Food Research Journal 28 (6)

2021
Identification and quantification of metamizole in traditional herbal medicines using spectroscopy FTIR-ATR combined with chemometricsDC Fatmarahmi, RA Susidarti, RT Swasono, A Rohman
Research Journal of Pharmacy and Technology 14 (8), 4413-4419
2
2021
Synthesis and evaluation of chalcone derivatives as novel sunscreen agentLW Wijayanti, RT Swasono, W Lee, J Jumina
Molecules 26 (9), 2698
5
2021
Antimalarial Activity of Sea Sponge Extract of Stylissa massa originating from waters of Rote IslandJ Presson, RT Swasono, S Matsjeh, MP Putri, ZA Zahra, L Pardosi
Jurnal Kimia Sains dan Aplikasi 24 (4), 136-145

2021
Antibacterial Peptides from Tryptic Hydrolysate of Ricinus communis Seed Protein Fractionated Using Cation Exchange ChromatographyT Raharjo, W Utami, A Fajr, W Haryadi, R Swasono
Indonesian Journal of Pharmacy, 74-85
3
2021
Sintesis Turunan Eugenol dan Uji Inhibisinya Terhadap Alfa-AmilaseV Andini, C Anwar, RT Swasono
Universitas Gadjah Mada

2020
Synthesis and characterisation of a partially methylated dodecyl thiomaltotrioside derivative as a precursor of cyclodextrin analogueH Parbuntari, N Sakairi, B Purwono, RT Swasono
Journal of Physics: Conference Series 1317 (1), 012032
1
2019
Synthesis, characterization and molecular docking of chloro-substituted hydroxyxanthone derivativesE Yuanita, PH Dwi, M Mustofa, SR Tri, J Syahri, J Jumina
Chemistry Journal of Moldova 14 (1), 68-76
9
2019
Application of 1H-NMR based metabolite fingerprinting and chemometrics for authentication of Curcuma longa adulterated with C. heyneanaA Windarsih, A Rohman, RT Swasono
Journal of Applied Research on Medicinal and Aromatic Plants 13, 100203
21
2019
Synthesis and Heme Polymerization Inhibitory Activity (HPIA) Assay of Chalcone, Flavone and Flavanone DerivativesN Suryani, S Matsjeh, RT Swasono
Materials Science Forum 948, 109-114
1
2019
In vitro cytotoxic anticancer potential of bioactive fraction isolated from indonesian tidal sponge Calthropella spF Susilowati, R Swasono, T Okino, W Haryadi
Asian Journal of Pharmaceutical Clinical Research 12 (1), 380-383
2
2019
Application of H-NMR metabolite fingerprinting and chemometrics for the authentication of Curcuma longa adulterated with Curcuma mangaA Windarsih, A Rohman, RT Swasono
Journal of Applied Pharmaceutical Science 8 (6), 075-081
13
2018
Characterization and Photocatalytic Activity of TiO 2 (rod)-SiO 2-Polyaniline NanocompositeS Wahyuni, ES Kunarti, RT Swasono, I Kartini
Indonesian Journal of Chemistry 18 (2), 321-330
10
2018
Mitochondrial ND-1 gene-specific primer polymerase chain reaction to determine mice contamination in meatballTJ Raharjo, I Nuryanti, FP Patria, RT Swasono
International Food Research Journal 25 (2), 638-642
5
2018
Sintesis Nanokomposit TiO2 nanorod-SiO2-PANI sebagai Fotokatalis dan Bahan Anti-FoulingSRI WAHYUNI, I Kartini, ES Kunarti, RT Swasono
Universitas Gadjah Mada

2018
Authentication of turmeric using proton-nuclear magnetic resonance spectroscopy and multivariate analysisA Windarsih, A Rohman, RT Swasono
Int. J. Appl. Pharm 10, 174-180
7
2018
One-pot synthesis, antioxidant activity and toxicity evaluation of some hydroxyxanthonesE Yuanita, HD Pranowo, D Siswanta, RT Swasono, Mustofa, …
CHEMISTRY & CHEMICAL TECHNOLOGY 12 (3), 290-295
7
2018
1H NMR Fingerprinting of Medicinal Herbs Contain Chemical Drug Material AllopurinolAY Puspitasari, HD Pranowo, RT Swasono, TR Nuringtyas
Majalah Obat Tradisional 23 (3), 137-143
2
2018
Short Time Synthesis of Titania Nanotubes: Effect of Pre-Mixing Prior HydrothermalI Kartini, INA Jannah, FR Amalia, S Mustofa, ES Kunarti, RT Swasono
Indonesian Journal of Chemistry 19 (1), 58-67
3
2018
Sintesis Senyawa Turunan Khalkon dan Flavon Berbahan Dasar Vanilin dan Uji Sitotoksik Terhadap Sel Kanker Serviks (Hela), Sel Kanker Kolon (Widr), dan Sel Kanker Payudara (T47D …E Lestari, S Matsjeh, RT Swasono
BIMIPA 25 (1), 53-65
2
2018
Synthesis of 2', 4-dihydroxy-3-methoxychalcone and 2', 4', 4-trihydroxy-3-methoxychalcone as a candidate anticancer against cervical (WiDr), colon (HeLa), and breast (T47D …S Matsjeh, RT Swasono, C Anwar, EN Solikhah, E Lestari
AIP Conference Proceedings 1823 (1), 020048
5
2017
Study on the properties and photoactivity of TiO2 (nanorod)-SiO2 synthesized by sonication techniqueS Wahyuni, ES Kunarti, RT Swasono, I Kartini
Oriental Journal of Chemistry 33 (1), 249
2
2017
Secondary metabolites and their biological activities in Indonesian soft coral of the genus LobophytumMY Putra, T Murniasih, RT Swasono, JT Wibowo, ANC Saputri, …
Asian Pacific Journal of Tropical Biomedicine 6 (11), 909-913
16
2016
Phenolic content, anti-oxidant, anti-plasmodium and cytotoxic properties of the sponge Acanthella cavernosaMY Putra, T Murniasih, JT Wibowo, TA Hadi, F Untari, AC Nisa, …
Asian Pacific Journal of Tropical Disease 6 (10), 811-815
2
2016
Alvina Nur AiniMY Putra, JT Wibowo, T Murniasih, RT Swasono
Universitas 2019

2016
Synthesis and Antioxidant Assay of C-2-Ethoxyphenylcalix [4] resorsinareneSN Handayani, M Jumina, RT Swasono
International Journal of PharmTech Research 9 (11), 103-109
3
2016
Research Article Effect of Deacetylation Degree of Chitosan as Solid Support in Lipase Immobilization by Glutaraldehyde CrosslinkTJ Raharjo, L Febrina, FA Wardoyo, RT Swasono
J. Biochem. 11 (3), 127-134
8
2016
Bioassay-guided isolation of an antibacterial compound from the Indonesian soft coralMY Putra, A Saparhadi, F Karim, T Murniasih, RT Swasono
Squalen Bulletin of Marine and Fisheries Postharvest and Biotechnology 11 (2 …
4
2016
Rekayasa Senyawa Trihidroksi Xanton Tersubstitusi Halogen sebagai Bahan Obat AntikankerRTS Jumina


2015
Uji Stabilitas Enzim Lipase Terimobilisasi pada Kitosan Serbuk Melalui Teknik Taut SilangFA Wardoyo, TJ Raharjo, RT Swasono
PROSIDING SEMINAR NASIONAL & INTERNASIONAL
2
2015
Konversi Limbah Cangkang Kepiting Menjadi Chitosan Beads sebagai Matriks Pendukung pada Proses Imobilisasi LipaseS Primadevi, TJ Raharjo, RT Swasono
Biomedika 7 (2), 34-41

2014
Membrane-active Compounds from Dinoflagellate-Structure-based Mechanism of Action of Amphidinol 3TS Respati


2010
Bioactive secondary metabolites from Australian invertebrates, Indonesian marine sponges, and an Indonesian terrestrial plantRT Swasono


2006
Novel imidazole alkaloids from Leucetta-like Indonesian spongesR Swasono, JT Blanchfield, MJ Garson


2006
Study on polyisoprenylated benzophenones from fruit of Garcinia pichrorhizaR Swasono, S Utami, S Kosela, JT Blanchfield, MJ Garson


2003
ANTIBACTERIAL PEPTIDE FROM SOLID PHASE EXTRACTION (SPE) FRACTIONATION ON TRYPSIN HYDROLYSIS OF JATROPHA (Ricinus communis) SEED PROTEIN ACID EXTRACTDR Atmawati, Z Andriana, RT Swasono, TJ Raharjo



Identification α-Amylase Inhibitors of Vernonia amygdalina Leaves Extract Using Metabolite Profiling Combined with Molecular DockingN Yunitasari, TJ Raharjo, RT Swasono, HD Pranowo
Indonesian Journal of Chemistry


UNDERSTANDING PHYTOCHEMICAL ROLES ON α-GLUCOSIDASE INHIBITORY ACTIVITY BASED ON METABOLOMIC APPROACH OF Premna serratifolia LEAVES FROM WEST BORNEO, INDONESIAD Hadiarti, W Haryadi, S Matsjeh, RT Swasono



Identifikasi Senyawa Curcumin, Bisdemethoxycurcumin dan Demethoxycurcumin Rimpang Curcuma xanthorrhiza Roxb. dan Curcuma longa L. dengan 1H NMREN Indiarto, TR Nuringtyas, YA Purwestri, RT Swasono, YB Murti
Proceeding Biology Education Conference: Biology, Science, Enviromental, and